Free shipping with a purchase of $250 or more
Our Story
Cypress Brand was born in the bayous of South Louisiana as a single idea: that premium alligator leather products can - and should - be made for the everyday man and woman. Today, we've taken that idea and grown it into a national company that offers a wide range of high-quality, one-of-a-kind items crafted from authentic American Alligator leather.  
Each Cypress Brand item is handcrafted in the USA and carefully designed to be as timeless and unique as the wetlands and creatures that inspire them. We focus on offering products with a vintage, laid-back look that gets better with age - and never goes out of style.
Cypress Brand believes the perfection of our products comes from the uniqueness of the skin used. Every alligator and product tells a different story. That's why we only use wild-harvested alligator hide. 
When you choose Cypress Brand, you aren't just buying a luxurious and quality product. You're buying into a brand that is veteran-owned, American-made, and dedicated to your style and satisfaction.  
Our CEO said it best: 
"While visiting a friend who operates a tannery, he showed me a new type of leather he created with wild-harvested alligator skins. It had a much softer pliable feel with a vintage look. This made me think back to walking through a local processor's cooler where he was storing wild skins from the prior years and mentioned his plans to simply waste/destroy the skins due to no buyers. The abundance of wasted wild skins injunction with the above-mentioned wetlands caused me to start brainstorming. Boom. Cypress Brand was created, purchase the skins, and turn them into leather. We found some of the best artisans in the country and started developing our products. These artisans have developed and produced products for some of the biggest names in fashion. We created, revised, and tested until we were completely satisfied with the quality and look of our products." 
So,  
Save the wetlands 
Support a longstanding tradition and heritage 
Look good doing it with quality products that last a lifetime 
Aaron Ledet 
Founder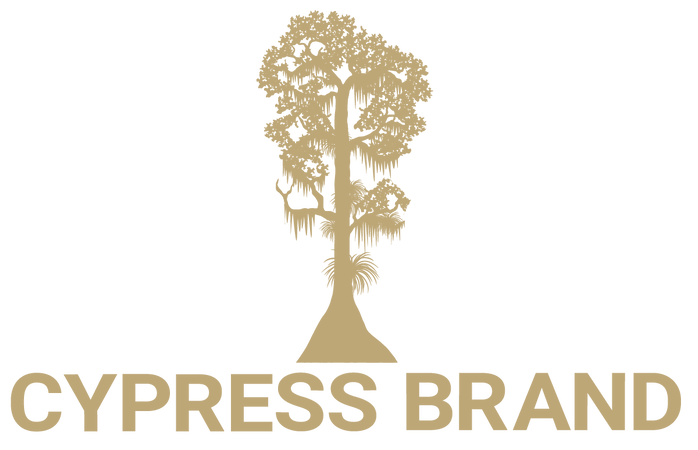 Follow us