Free shipping with a purchase of $250 or more
American Alligator Conservation
Conservation 
Inspired by the wild alligators that roam South Louisiana, Cypress Brand is as dedicated to conservation as we are to our customers. We believe the best products are the ones you can feel good about buying, and nothing feels better than giving back to our amazing planet. We hope that by caring for our country's unique wildlife we'll be able to continue crafting American-made alligator leather products for years to come. 
American Alligator Conservation 
Alligators have been used commercially for their premium leather since the 1800's. Alligator harvesting was mostly unregulated through the 20th century, and overhunting caused a severe threat to the future of the species. The American Alligator was placed on the endangered species list in 1967, earning federal and state protections to encourage species conservation. 
Protection under the Endangered Species Act allowed the American Alligator population to begin recovery. Southern states like Louisiana began to monitor population trends and strict laws were enacted to limit and regulate the harvest and use of live American Alligators. Through the Louisiana alligator management program, which includes egg collection and hunting of wild alligators, the wild alligator populations grew from under 100,000 to over 1.5 million. 
Today, the thriving American Alligator population is classified as Least Concern. The U.S. Fish and Wildlife Service still regulates the legal trade of American Alligators and their products to guarantee controlled harvests and protect still-endangered crocodiles from cross-hunting. 
But, the hunting of wild alligators remains crucial to the conservation of the species. Thanks to advancements in alligator farming, luxury brands no longer have a strong interest in harvesting hides from wild alligators – but they're still hunted for their meat. This means thousands of premium alligator hides go to waste every year. 
That's where we come in. 
Cypress Brand Conservation Efforts 
Cypress Brand was born out of a desire to share our love of premium alligator leather with our everyday Americans. As a brand, we are committed to aiding in alligator conservation by using responsible and species-friendly harvesting practices to craft our one-of-a-kind products. 
That's why all Cypress Brand products are made from the hides of American Alligator hunted from its natural habitat. By doing so, we put to use this renewable natural resource in its entirety while sustaining a healthy wild alligator population and maintain a part Louisiana's cultural heritage. 
Continue reading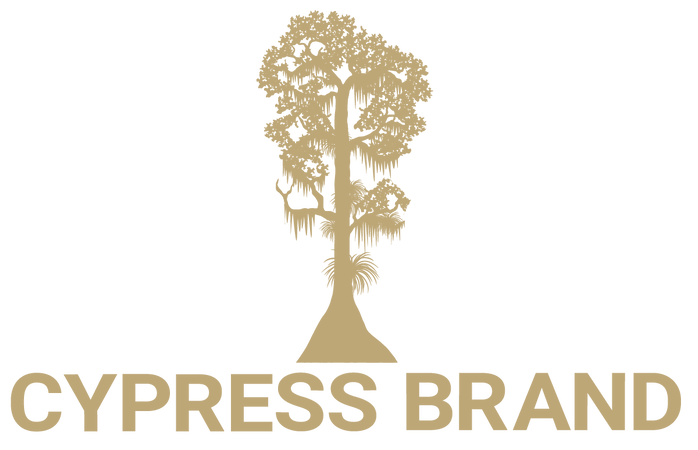 Follow us